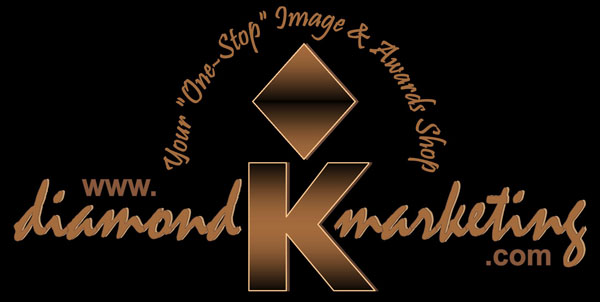 ABOUT US
Diamond K Marketing, owned by Daryn and Carolynn Knapp,
opened its doors in April of 2001 as a professional Design, Print & Marketing Shop to area businesses and residents.
Working towards providing a "One-Stop Image & Awards Shop",
a number of services have been added to Diamond K since it's inception to better serve clientele across western Canada;
including a high speed industrial printer, website design and maintenance services, in-house embroidery machines,
leather sewing machines as well as a full line of promotional items providing businesses, organizations, teams and individuals
a variety of high quality customized products to suit their needs.
Diamond K Marketing is ...


The Design, Web, Print, Embroidery & Promo Shop
Combined with an extensive background in small business management, operation and consulting,
Carolynn, manager of operations, graduated from the University of Lethbridge
with a Degree in Management and a Major in Marketing.
Carolynn believes that every business and organization has competitive advantages and knows the importance
of focusing on them when building corporate and organizational identities.
Diamond K's advantage is the ability to build unique and creative identities for all our clients
including logo designs, websites, supporting documentation, signage, matching corporate apparel
as well as providing a large variety of promotional items.
Since it's inception, Diamond K Marketing has assisted hundreds of businesses, and organizations
create and maintain a powerful and productive marketing image.
The Custom Leather & Tack Shop
Managed and operated by Daryn Knapp,
the Custom Leather Shop is proud to build quality tack for the ranch and rodeo cowboy (and cowgirl)
as well as specializing in unique and custom equine awards.
With an extensive background in rodeo and ranching,
Diamond K owners Daryn & Carolynn Knapp know what customers are looking for
in terms of durability, style and affordability when "tacking-up", as well as the importance of quality and useful awards,
whether they are worn, used or displayed as a trophy by award winners and rodeo contestants.
Diamond K Marketings'
"Creative Strategies and Original Designs"
will help make your organization stand out above the competition!
DIAMOND K MARKETING
Box 3629 Mayerthorpe, Alberta, Canada T0E 1N0
Phone: 780.786.4848 Fax: 780.786.4889
Email: diamondk@telusplanet.net