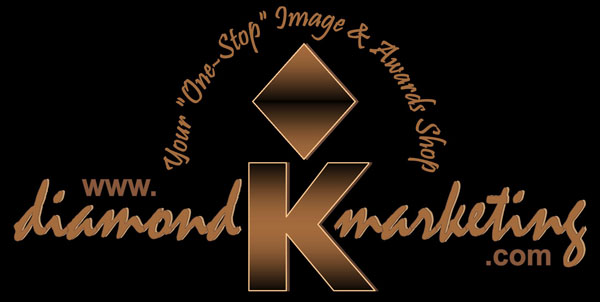 LOGO DESIGN ~ PRINT ~ WEBSITES ~ EMBROIDERY ~ PROMO ITEMS

Diamond K Marketing's Web, Design, Print , Embroidery & Promo Shop is ...



for Businesses, Organizations, Teams & Individuals!
Big or small, Diamond K knows that all organizations are unique
and have their own strategic advantages in the market place, therefore we take pride in creating a look and image that you deserve.
Your newly designed logo and corporate look can be used on your website,
print material (business cards, letterhead, invoice booklets, brochures, signage, ...),
promotional products (drinkware, pens, bags, timepieces, ...) as well as embroidered apparel (jackets, caps, sweatshirts, etc).
Best of all, everything is customized to your organizational needs!
Businesses, organizations and individuals may also benefit from
Additional Professional Services offered by Diamond K
including: photocopying, laminating, business documentation, resume writing, corporate marketing training, and market research.
Visual PowerPoint Presentation Design and Production
is also available for business meetings, training sessions, trade shows and special events including family functions.
Diamond K's creative strategies are not limited to paper!
Diamond K Marketings'
"Creative Strategies and Original Designs"
will help make your organization stand out above the competition!
DIAMOND K MARKETING
Box 3629 Mayerthorpe, Alberta, Canada T0E 1N0
Phone: 780.786.4848 Fax: 780.786.4889
Email: diamondk@telusplanet.net